September brings the real heat to Southern California, and our plan is to cool off all weekend long in one of these amazing resort-style pools on the market. From waterslides, waterfalls, and amazing views to a built-in secret passage, these pools are truly spectacular.
Check out these fantastic estates for yourself below, and don't forget to click the address to view the full property as well!
Price: $7,259,000
Listed by: Susie McCollom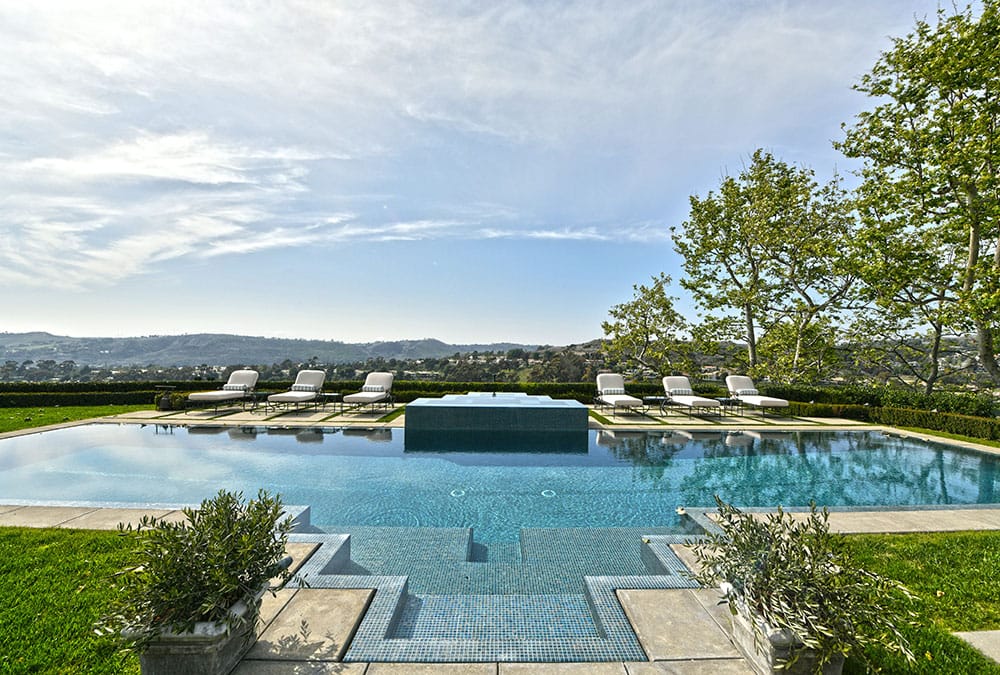 Perched in the lush rolling hills of San Juan Capistrano, this zero edge pool has one amazing view. Featuring unparalleled luxury living including a covered outdoor entertainment patio, gourmet kitchen, separate guest house, and tons of space to dine al fresco, this estate is equipped to hose weddings and other events with hundreds of guests. But we're guessing you'll want to keep this pool – and this view – all to yourself.
Price: $1,299,000
Listed by: Andrew Bell and Vanessa Dalrymple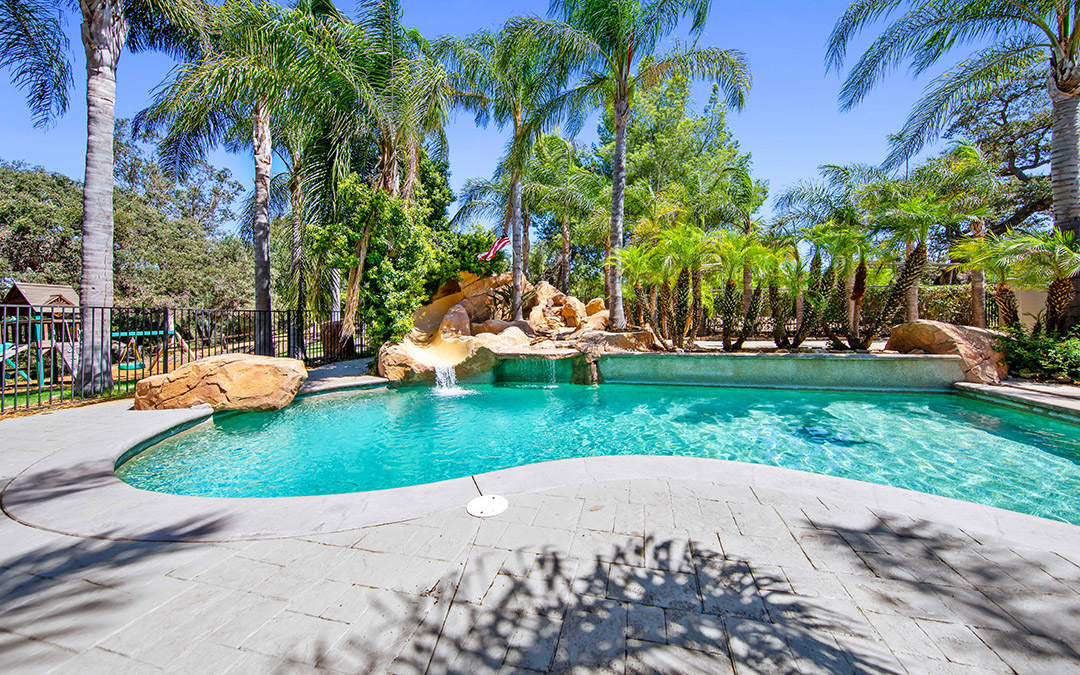 This custom pool has a very magical backstory. The entire pool and entertainment deck was designed by a famed Disney aqua architect and features a Pebble-Tech free form layout, a waterslide and a grotto crafted of faux rocks. Not to mention a secret passage miner's tunnel which will conjure up memories of Thunder Mountain Railroad!
Price: $2,700,000
Listed by: Yvette Roberts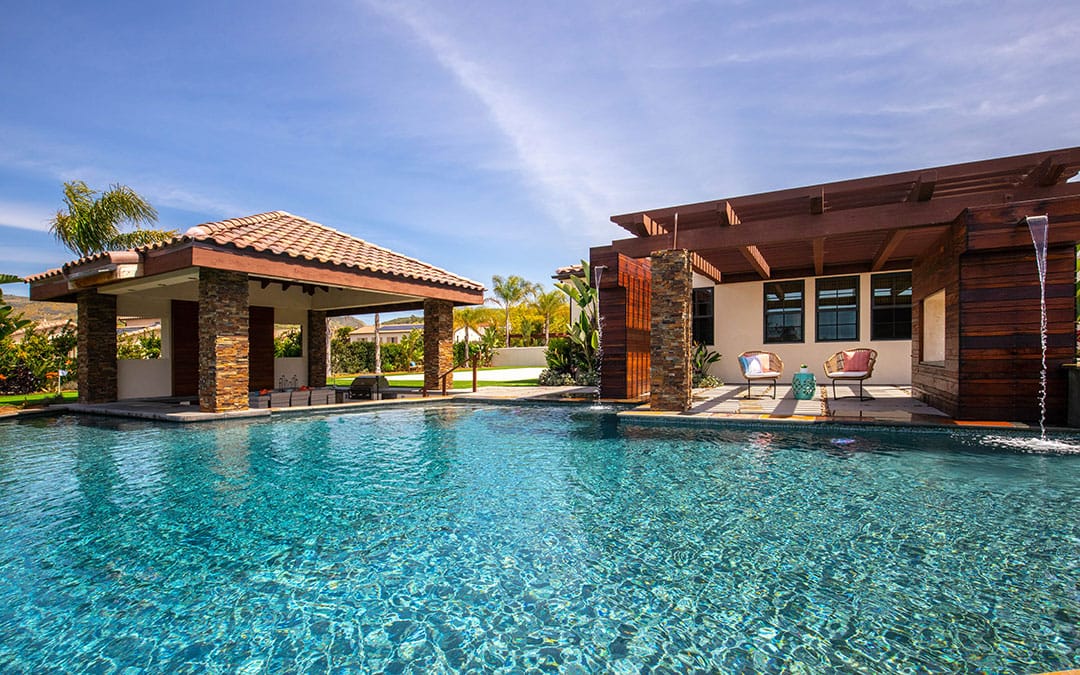 This San Diego property feels more like staying in a luxury hotel with a pool that is set to impress. The single-story 5 bed, 5.5 bath Mediterranean home is all about the amazing outdoor space including a 1 bedroom casita with a private entrance and an infinity pool with a swim-up bar that connects to the outdoor kitchen cabana.
Price: $2,445,000
Listed by: Bobbi Caves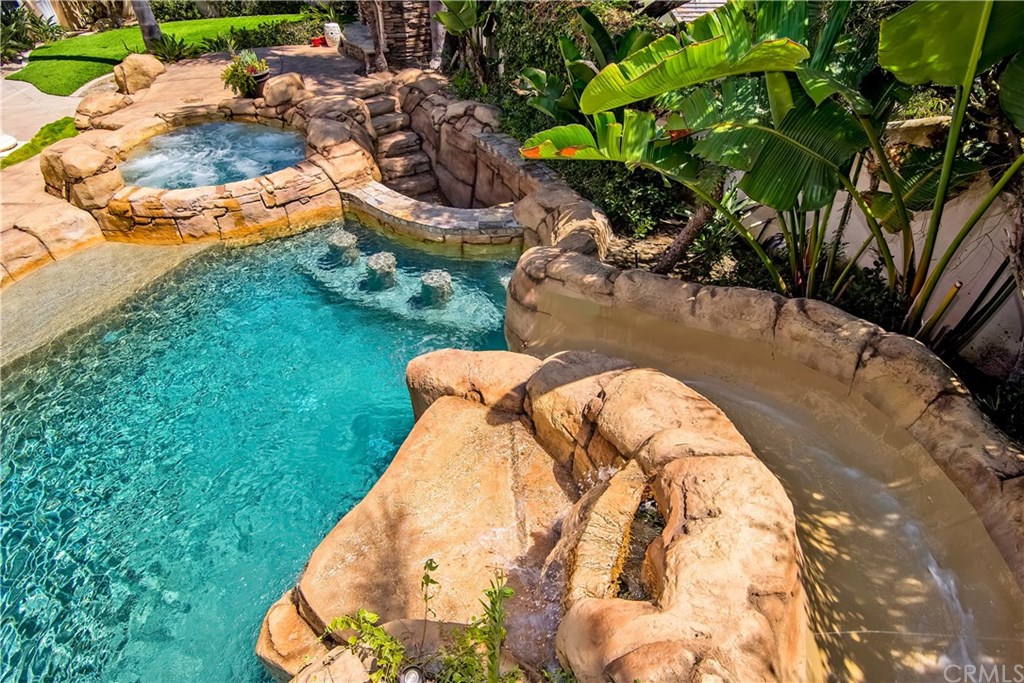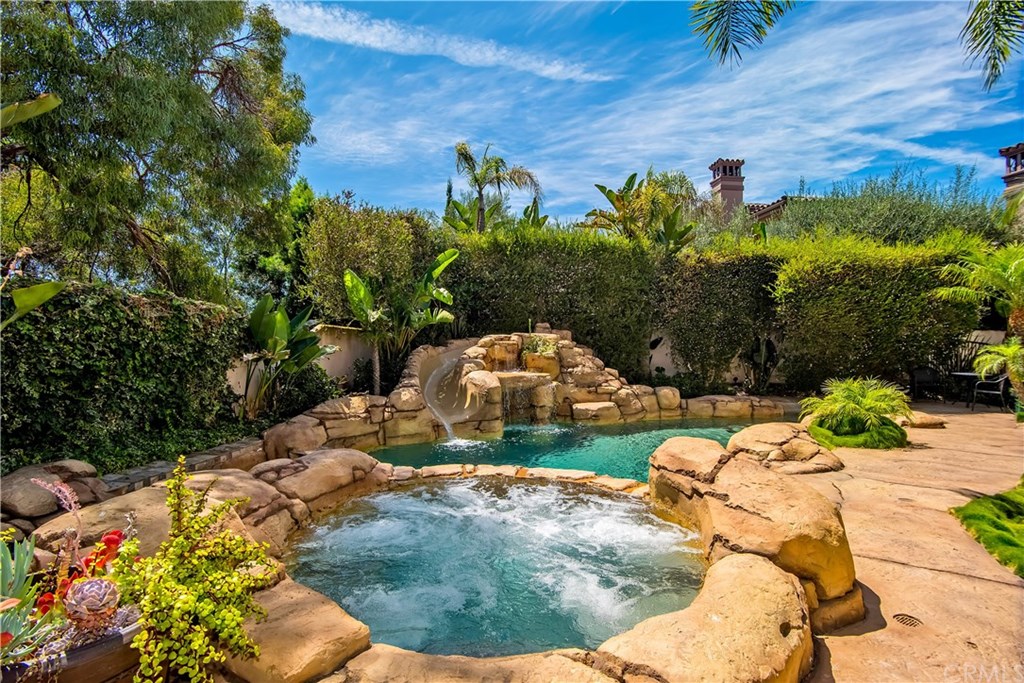 <
Multiple angles are necessary for this impressive pool. Featuring a beach walk-in, spa, waterfall, slide, and built-in seats, this amazing rock pool rivals any you will find on vacation. No matter your age, this pool brings the fun. The rest of the backyard is built for enjoying as well with an outdoor fireplace, built-in BBQ, and covered patio.
Price: $1,999,000
Listed by: Kathy and Eric Leimkuhler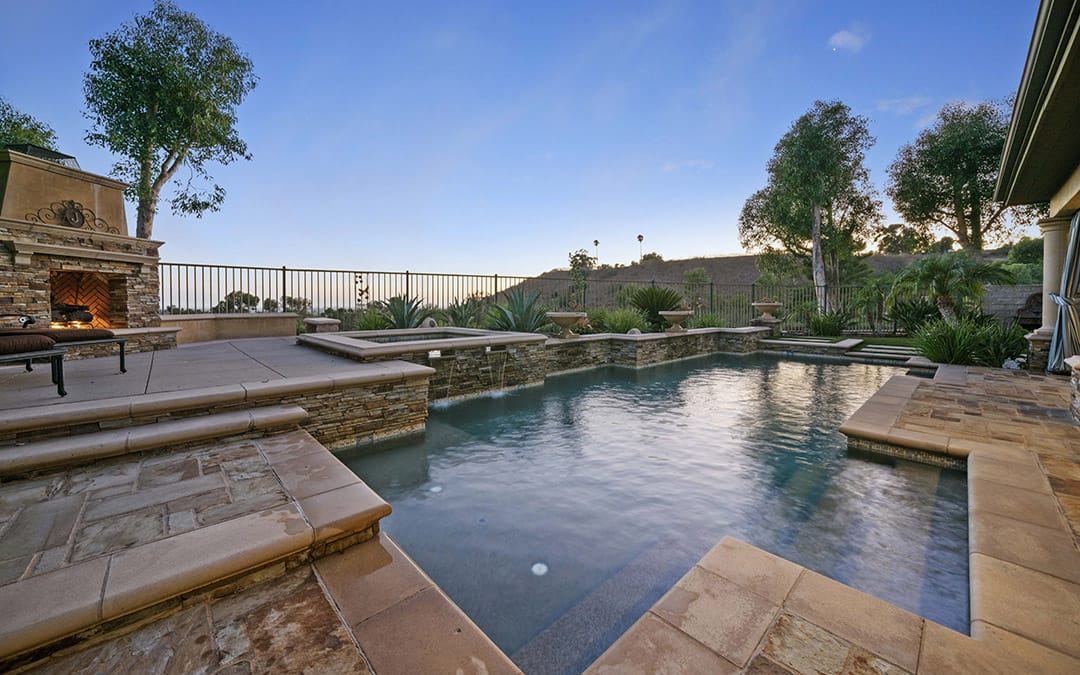 Fully designed to blend indoor and outdoor living, this spectacular backyard oasis in Orange features a pristine pool with waterfall and resort-style features as well as an unobstructed, panoramic view out to Catalina from multiple viewing locations.
Price: $2,995,000
Listed by: Markus and Heidi Brown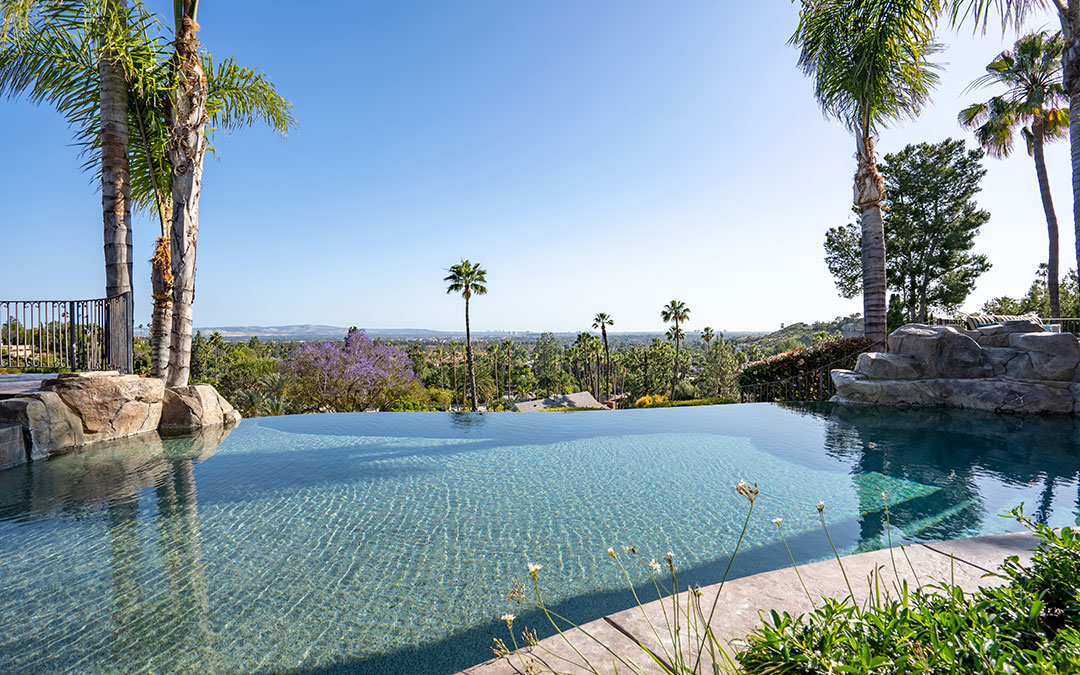 Spend a relaxing weekend floating in the pool while gazing past the infinity-edge toward a backdrop of rolling hills, majestic trees, and endless skies in this North Tustin dream home. Built for entertaining as well, host an evening cocktail party under the covered patio and serve up gourmet food and drinks while guests marvel at the stunning panorama of city lights.
Price: $1,218,000
Listed by: Kim Weingarten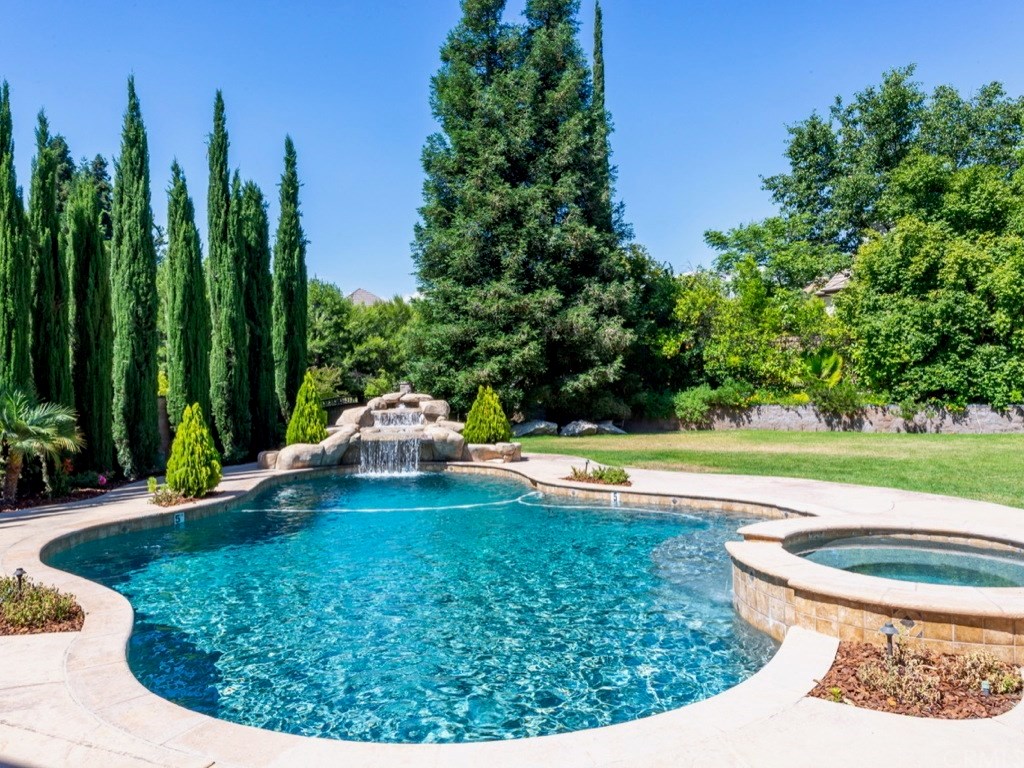 Rejuvenate in this Redlands resort-style pool with one amazing rock waterfall and spa. This elegant 4,600-square-foot home has 5 bedrooms and 4½ bathrooms and is located on a half-acre corner lot with views of the mountains. The perfect place to unwind all weekend long, this home is also equipped with an impressive outdoor kitchen including a built-in BBQ, pizza oven, and grilling area, an outdoor fireplace and flat-screen TV.
Price: $1,218,000
Listed by: Yvonne Mendez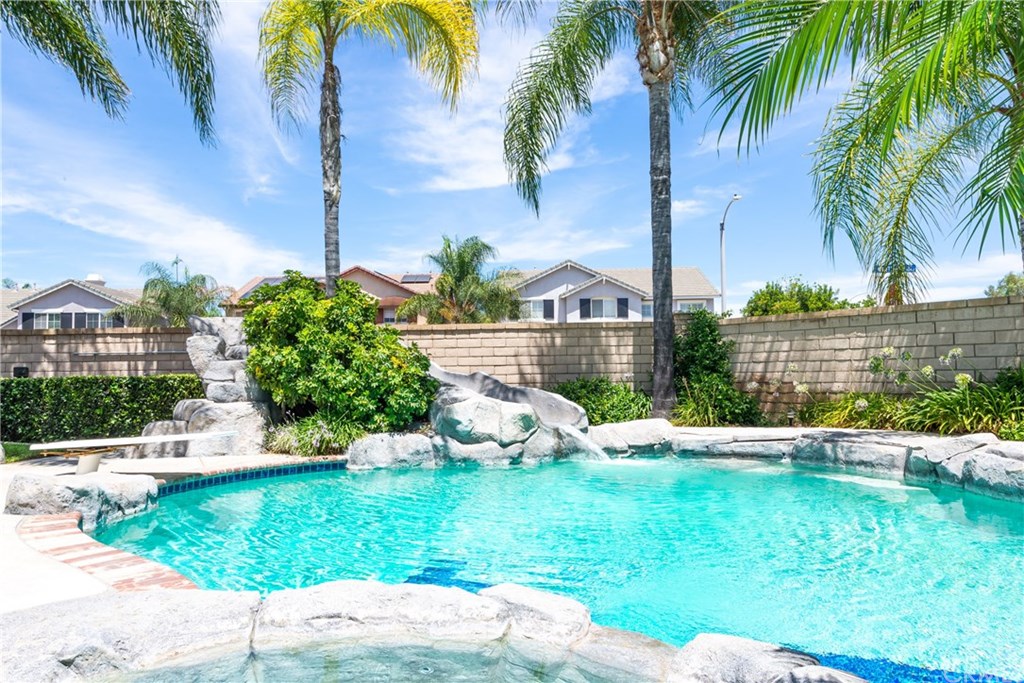 This rock pool with waterslide and diving board comes with its own pool house as well! Complete with A/C, shower, sink, room for a refrigerator and storage above, this is a rare find in South Corona. Rounding out the backyard oasis with the 10-foot deep pool is a spa and BBQ island.
Which one of these resort-style pools is your favorite? Leave a comment and let us know!