About First Team Real Estate
First Team | Christie's International Real Estate is a destination brokerage that prides itself on a 42-year tradition and the distinction of being #1 in total unit sales and #1 in luxury unit sales.
Since 1976, First Team Real Estate has helped hundreds of thousands of homebuyers and sellers achieve their real estate goals. Beginning with just one office in Huntington Beach, we have grown to 38 office locations across Southern California with 2200+ associates.
Choosing a real estate company is difficult – but we make it easy by attracting the most buyers with a local neighborhood expertise to sell your home at the right price. First Team Real Estate is the #1 independent real estate company in Southern California because we capture the highest sales volume and provide the best tools for selling your home.
How we maximize exposure of your home to buyers
Multi–million dollar online and offline advertising budget
#1 local real estate website, FirstTeam.com, with over 10,000,000 webpage views annually
Ability to showcase your home on all of the top real estate websites such as Realtor.com®, Yahoo!®, Google™, Zillow and hundreds more
YouTube® – A custom video of your home posted and exposed to thousands of users monthly
Search Engine Marketing optimized for Google™ and other top search sites
Hundreds of marketing relationships for listing syndication and enhancement
Making A Difference In The
Communities We Call Home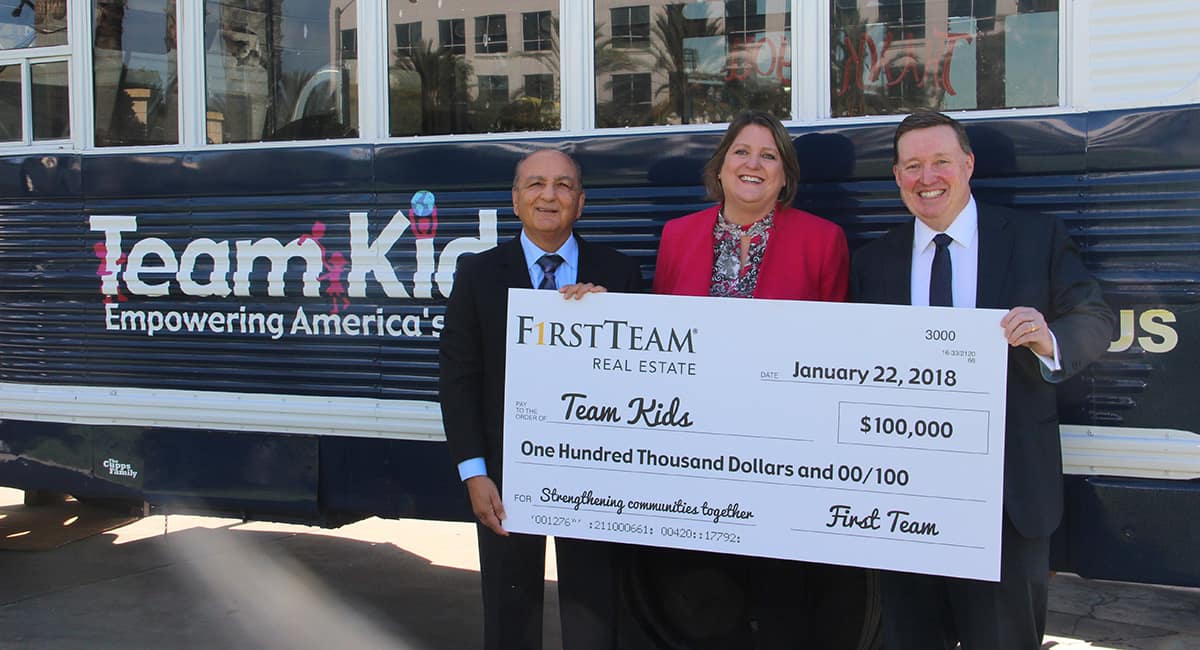 Each year, Team Kids hosts a five-week Team Kids Challenge at 30 local schools, harnessing the collaborative efforts of nearly 25,000 students, who are invited to participate in weekly challenges geared toward community issues, including homelessness, hunger, literacy and the environment. Through the partnership with First Team Real Estate—called the Team Kids Superhero Program—real estate agents will serve as mentors to children in their communities, guiding them through various challenges that allow them to make a difference and earn recognition for it.
"Through the Superhero program, kids will be presented with challenges to complete, such as bringing blankets to an animal shelter or writing a thank you note to someone in the military," Hudash explained. "Once they complete these challenges, the real estate agents will present them with certificates thanking them for their contributions and for helping to make their own community a better place."
Says Michael Mahon, President of First Team Real Estate, the Superhero Program is part of our organization's overarching mission to support the communities we so proudly serve.
"As a real estate organization, the communities that inhabit the real estate markets we serve are our lifeblood, and we are passionate about the notion that it is not only our responsibility, but our distinct privilege to support them in every way possible," Mahon stated. "The Superhero Program we're participating in through Team Kids gives all 2,000 of our sales associates the opportunity to give back in a way that's truly meaningful."
First Team Real Estate History
1976
5 agents in 1 office come together to build First Team Real Estate
1990
Rise to the #1 independent real estate company in all of Orange County, CA in home sales
1995
Hot Buys® developed to identify the best deals on the market
2003
SNEAKPREVIEW® developed to give buyers a competitive edge
2005
First Team joins Luxury Portfolio®, an ultra–luxury properties division of Leading Real Estate Companies of the World™
2005
Market Trends™ developed to provide comprehensive analysis of our local markets
2006
First In Our Hearts charity foundation is born
2008
The NEW Rules of Real Estate® developed to help our agents adapt to the changing market
2011
Seller Online Listing Detail (SOLD) report developed
2012
1,694 Agents & #10 in USA
2013
Awarded HGTV Doory Award for outstanding work
2014
First Team partners with Christie's International Real Estate
2014
Launched SoCaLiving Magazine, premiere property publication
2015
First Team integrates with Testimonial Tree, providing agents a seamless review platform they control
2015
First Team integrates with RealScout tech to provide industry-best home search to buyers
2017
Military on the Move Program launched, a rebate program for active duty, retired military & wounded warriors
2017
First Team partners with LuxuryRealEstate.com, the #1 online portal for luxury properties
2018
First Team partners with Team Kids, an OC-based nonprofit organization, to introduce Superhero Program
2019
First Team adds 400+ New Agents in San Diego County
2019
First Team launches RoadMap-Ai, a digital marketing platform that delivers 12,000+ leads to agents in its first three months; at no cost to agents
2019
First Team launches Master Series Training Program for experienced agents