Beautiful palm tree lined-streets with mansions for sale, word-class shopping, and glamor define Beverly Hills. Beverly Hills houses are usually tucked away behind large gates to provide residents much needed privacy and every inch of space is manicured. Perfectly polished with designer details all around town, most neighborhoods in Beverly Hills boast beautiful foliage and public green spaces.
Now let's take a tour of one of the most well-known zip codes in the world – 90210. The city of Beverly Hills is divided into two sections, commonly referred to as north and south of the tracks. Beverly Hills residents still refer to the neighborhoods located north of Santa Monica Boulevard up to Mulholland Drive as north of the tracks, and downtown plus nearby residential areas south of Santa Monica Boulevard as south of the tracks. It is also important to note that located just outside of Beverly Hills, but also providing amazing mansions for sale, is Holmby Hills. Including grand historic estates as well as mega modern mansions, it is another one of Los Angeles' top neighborhoods for luxury real estate.
Beverly Hills Real Estate North of the Tracks
1. Trousdale Estates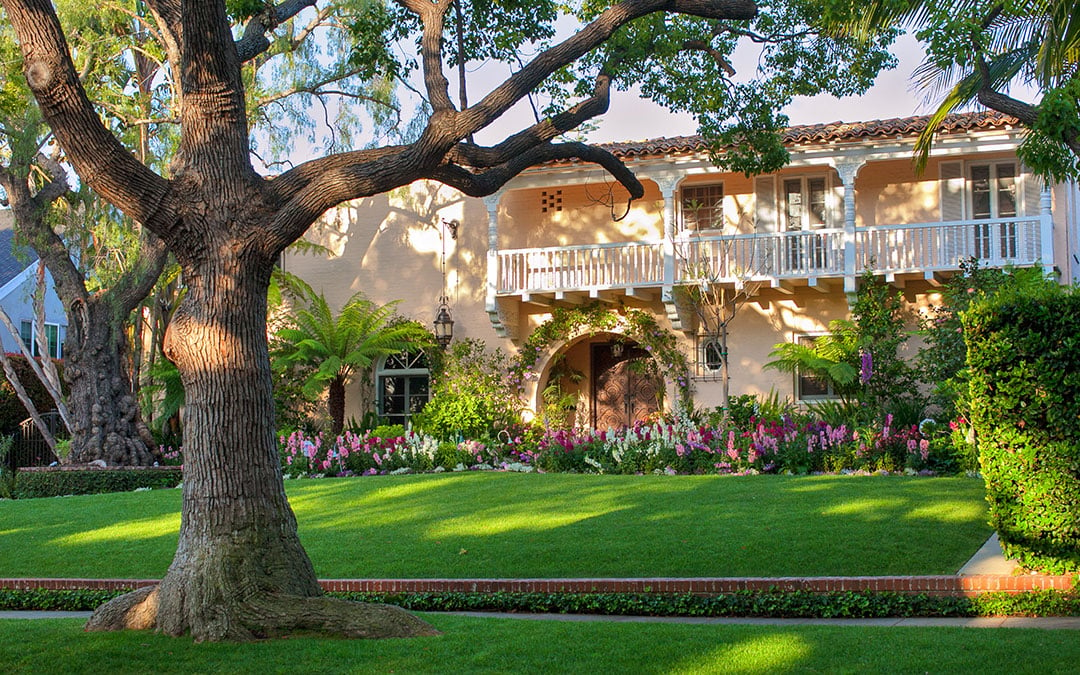 Trousdale Estates is a hillside community that echoes the history and style of old Hollywood. If you love mid-century modernist architecture, then Trousale Estates is the perfect Beverly Hills neighborhood for you.
When the land was parceled off in the 1960s and 535 lots were created, the neighborhood was named after Paul Trousdale who purchased the land. With the slogan, "A life above it all", the area offered celebrities and socialites unobstructed views of Beverly Hills and the greater LA area – and it still does.
The area offers a very natural setting with plenty of lush landscaping and trees, as well as a relaxed vibe in Beverly Hills California.
2. The Flats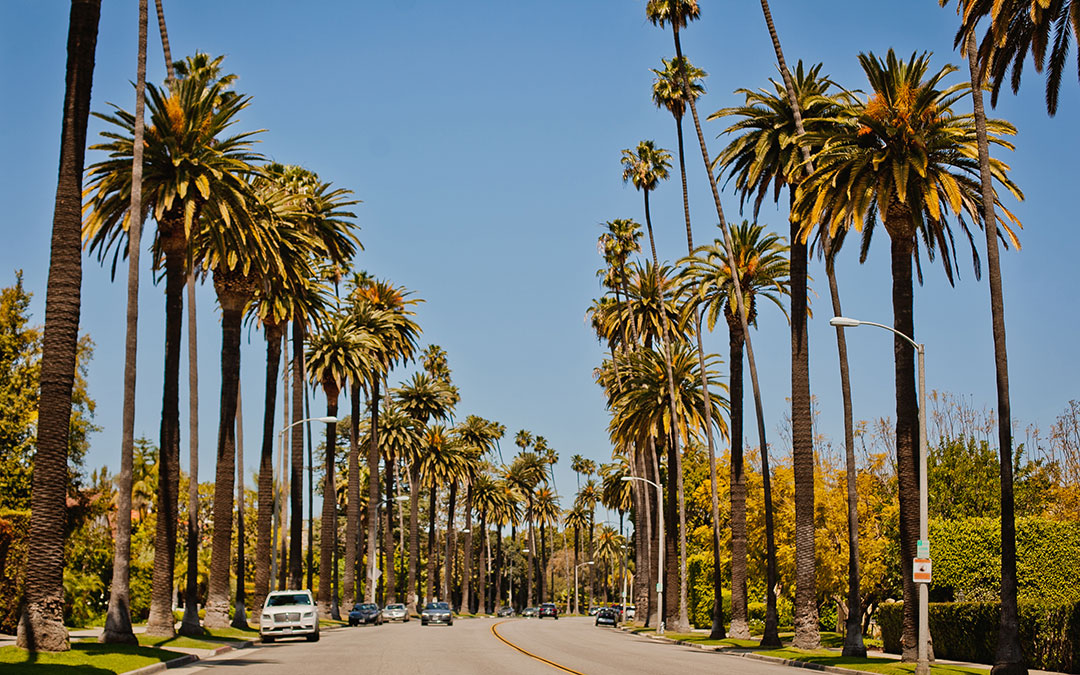 Sitting between Sunset and Santa Monica Bouldevards is a neighborhood called The Flats. The name comes from the fact that the neighborhood topography is literally flat, which makes it great for building large estates. Beverly Hills real estate in The Flats ranges from French chateaus and Spanish revival to ultra modern abodes.
These distinctive tree-lined streets are always filled with morning dog walks, joggers, evening strolls, and more because it offers gorgeous local sights such as the Lily Pond, Beverly Hills sign, and even sculptures. Also located in the neighborhood is the Beverly Hills Garden which plays host to many events including the bi-annual artSHOW.
Santa Monica Boulevard, Sunset Boulevard, Doheny Road, and Whittier Boulevard form the area's borders.
3. Beverly Hills Gateway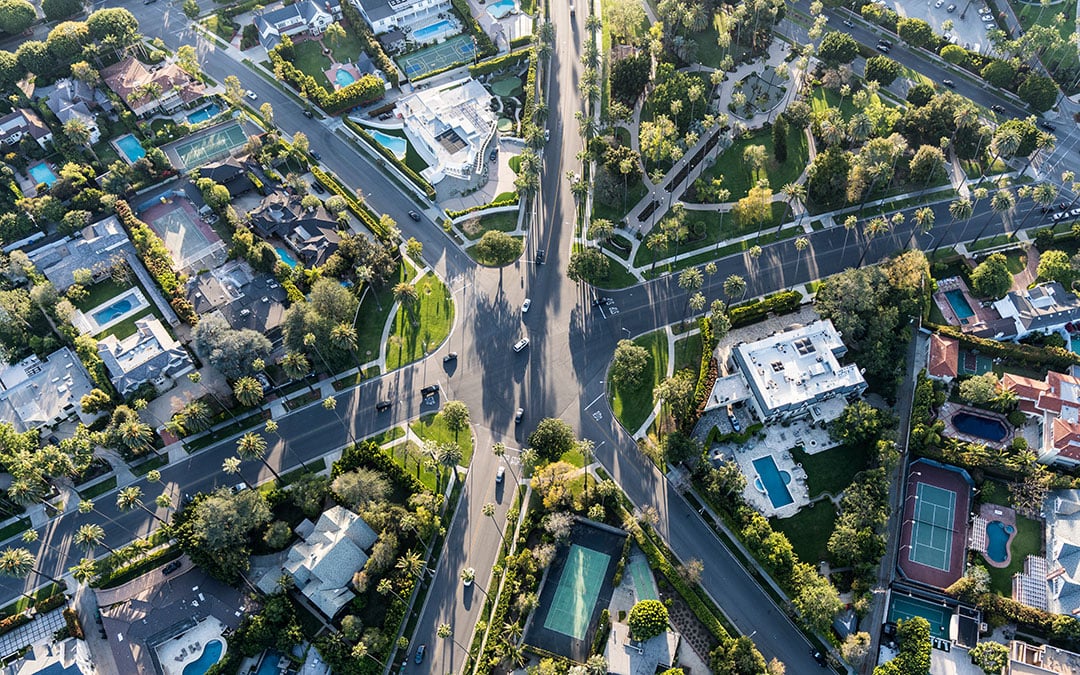 North of the Flats is the Beverly Hills Gateway, which is home to iconic Beverly Hills attractions like the Beverly Hills Hotel, known as the Pink Palace among locals. Enter through Benedict and Coldwater Canyons and start your climb deeper into the Santa Monica Mountains.
This is where you will find most of the residential homes in the city, however there are several other landmarks of note such as Will Rogers Memorial Park and Greystone Mansion. A Tudor Revival featured in several films such as Batman & Robin and The Big Lebowski, Greystone Mansion was once the most expensive house in California when it was built in 1928.

Houses for Sale in Beverly Hills South of the Tracks
4. Golden Triangle AKA Downtown Beverly Hills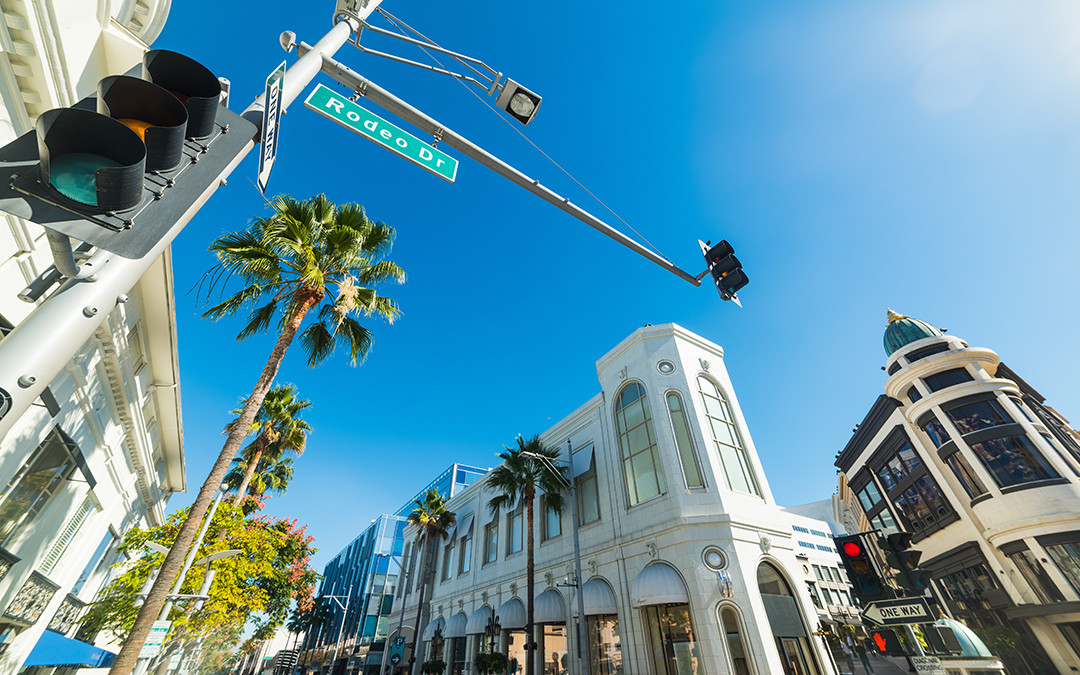 The Golden Triangle is the commercial center of Beverly Hills. Most famous for Rodeo Drive and other amazing shopping, it is also home to some of the most exclusive perks reserved just for residents like the dog park and public library.
The Beverly Hills Dog Park is an off-leash park, located directly in downtown and it's only available to registered residents, as well as hotel guests and individuals who work in Beverly Hills. Nearby is also the Beverly Hills Farmers' Market, filled every Sunday morning from 9AM-1PM with local vendors, produce, and treats.
The Beverly Hills Public Library is also a huge draw for residents as it offers a large selection of books, programs, and events for all ages.
The three major roads that create the distinctive triangle are South Santa Monica Boulevard, Wilshire Boulevard and Cañon Drive.
5. South of Wilshire and South Beverly Drive
Just south of Wilshire Boulevard, the grand Beverly Hills mansions turn into a gorgeous mix of single and multi-family homes, as well as boutiques and cafes in the South Beverly Drive neighborhood. Stop by the nearby 11-acre Roxbury Park, book a table at Maude, or visit any of the nearby trendy restaurants and bars.
Houses for sale in Beverly Hills located within this neighborhood are more affordable with homes listed in the single-digit millions. The area south of the tracks is also home to more exclusive residential hoods, including the neighborhoods surrounding Roxbury and La Cienega Parks.
6. Roxbury Park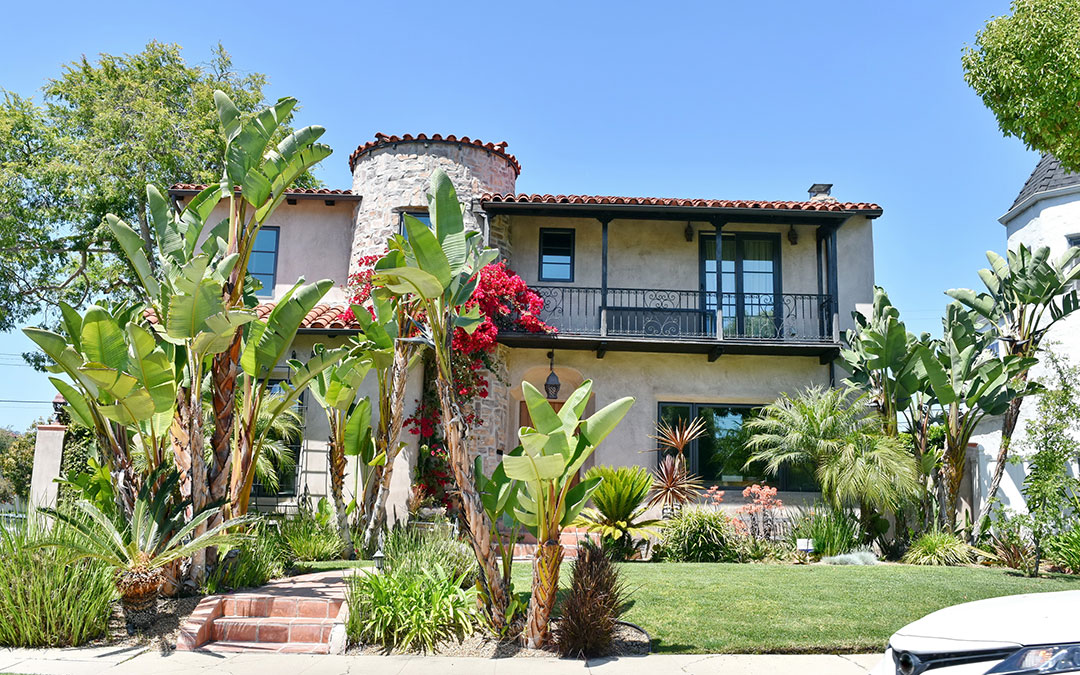 Roxbury neighborhood is named for the park where you can picnic with the family, rest in the shade of the trees, or enjoy any one of the sport courts including tennis, volleyball, basketball and even lawn bowling. The city also holds an annual Woofstock 90210 event featuring pet adoptions from local rescues. Roxbury also features it's own local library.
7. La Cienega Park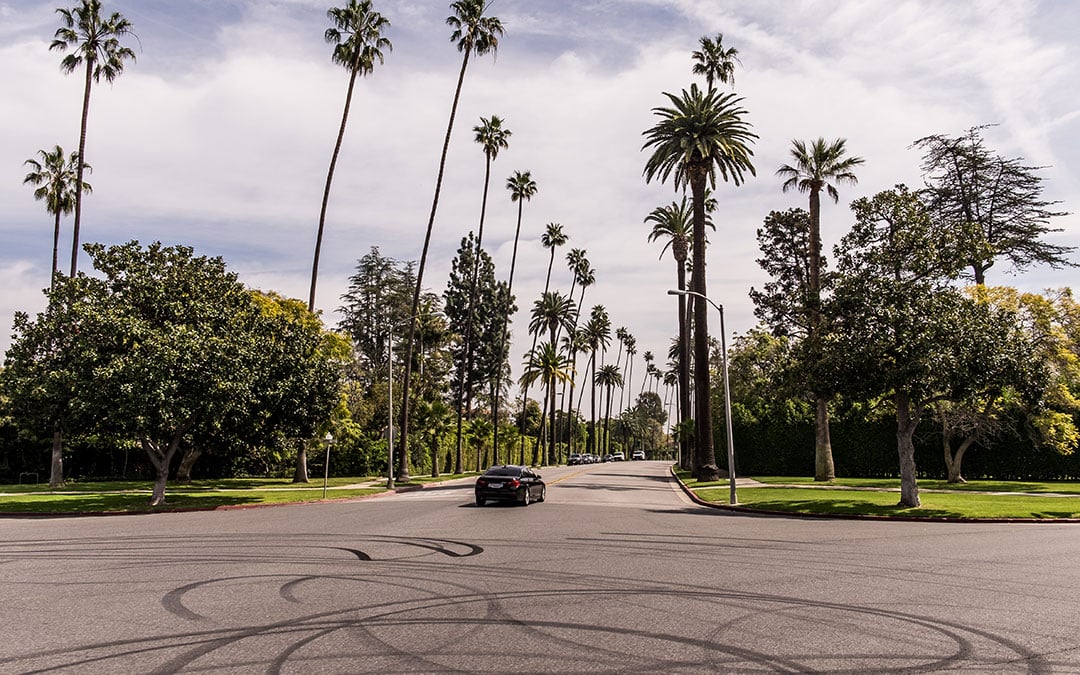 Located to the east of Roxbury is La Cienega Park and neighborhood. The park is best known for it's wide array of workout stations. The Community Center includes adult and senior recreational classes and the park offers three baseball diamonds that convert to soccer fields for league play as well.
Featuring the iconic wide palm tree-lined streets and a vast array of real estate for sale, this neighborhood is perfect for any family. With the perfect weather year-round, the outdoor amenities in La Cienega Park make this area especially enticing.
Related Articles:
Homes for sale in Beverly Hills CA
Ready to find your dream home? Click here view all Beverly Hills real estate or browse below to find your dream home. No matter which neighborhood you choose, you can't go wrong.