How do I start a career in real estate?
First Team launches more new careers than any other company! Our program consists of training and personal career counselors to guide you through the entire licensing process. Get started today! 877-845-1997

Licensing School Overview
STEP ONE
What kind of classes do you offer?
To get your California real estate license, you need to complete 3 classes – Real Estate Principles, Real Estate Practice, & Real Estate Law. We offer Principles class in 8 locations and Practice and Legal tutorials in Irvine & Anaheim Hills. The classes are flexible, so you can start at anytime!
I want to get this done quickly. How fast can I complete licensing school?
The fastest you can complete licensing school is approximately 8 weeks or 54 days with Live or online classes. This meets the current BRE regulations. Your course enrollment is valid for one full year. If you need assistance, counselors can customize a schedule for you!
STEP TWO
What happens when I'm done with licensing school?
You can meet with First Team Concierge to complete the DRE's application process. We will send your application certified mail and register for the Crash Courses. Also, we will show you how to get your test date as quickly as possible. You are also invited to attend Free Series 101 Training on Thursdays in the Irvine Office.
How much does the Bureau of Real Estate (BRE) charge for the state exam and license?
The total cost for the exam and license is $305. The state charges $60 for the exam and $245 for the license.
How and Where Is the State Exam Scheduled?
Detailed information will be shared at your application appointment. Once an application has been submitted it can take 5-7 weeks for your application to be processed. Once it has been processed, you will be able to schedule your state exam date through E-Licensing on the DRE's website. Examination availability is subject to the seating capacity of the facility and the demand for the date and time. Please visit dre.ca.gov for more information.
STEP THREE
Am I able to work with First Team as an agent once I get my license?
Yes! First Team offers exclusive Power Curve training and mentorship programs. After you have completed licensing school, you will be invited to meet with local First Team Branch Managers. Each manager will review First Team's marketing, technology platforms and extensive training programs. Once you decide on the office you would like to join, you may begin attending meetings and trainings. After you pass the state exam and receive your license number, you will be registered for Power Curve training and begin your new career!
or call 877-845-1997 for more information
Licensing School Locations
Mission Viejo
27451 Los Altos, Suite 100
Mission Viejo, CA 92691
Tues/Thurs 6pm-10pm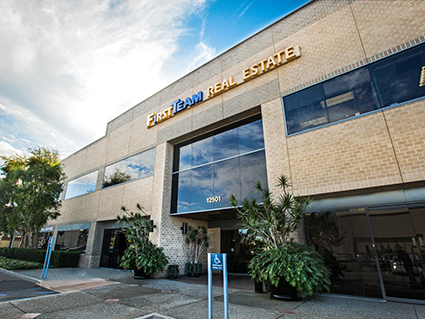 Seal Beach-Rossmoor
12501 Seal Beach Blvd. #150
Seal Beach, CA 90740
Sat/Sun 9am-5pm