According to a recent study from CoreLogic, house flipping is back to nearly the same level it was in 2006 – the peak of the housing boom. The data reveals that 10.9% of all home sales in the fourth quarter of 2018 were flips (identified as homes that have been occupied for only two years or less). At it's height in 2016, 11.4% of homes sales were flips.
Keeping in mind seasonality, the flipping rate in the fourth quarter was the highest rate for a fourth quarter since CoreLogic started tracking house flipping back in 2002! Not only are these investors doing more flipping, they're seeing higher profit margins because they are able to acquire homes at a discount.
Why House Flippers Are Smarter Now
Leading up to the housing bubble, individuals were flipping homes based solely on price speculation. Now, smart investors are flipping with a focus on adding real value to the homes. With less risk, these flips aren't causing volatility in the real estate market like before.
Investors are seeing healthy returns bringing the median annualized return on flipping to just over 40% in the fourth quarter 2018. The data is also able to reveal that flippers are likely using an entirely new business model than they used to. How do we know that? By combining the public record data from CoreLogic with their statistical models, they can estimate the discount an investor received on a property when they purchased it, and the premium they got once they were able to sell it.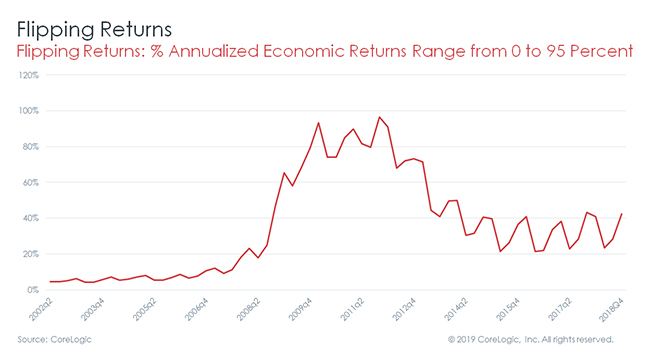 Higher Profit Margins for Flipping Houses
Some trades are more than twice as profitable as flips made back in 2006. That provides investors a much more comfortable cushion if prices fall or flatten during their flipping process. The median economic profit seen in the last quarter of 2018 was nearly 23% according to CoreLogic, compared to a 9% profit back in the height of 2006. Since the Great Recession, flippers have been increasingly good at acquiring properties at a discount, either because the properties were legally, financially or physically distressed.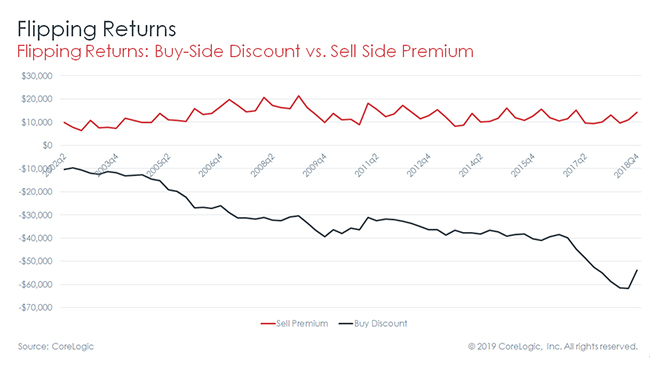 Another reason we're seeing higher profit margins and responsible flips is because the flipping market is becoming more institutionalized. More than 40% of flippers were corporate sellers in the fourth quarter of 2018. That's nearly three times the share of the market they had during the last boom. Experienced flippers with a solid investment strategy are coming out on top of today's real estate market.
How To Identify A Successful Flip
Flipping homes isn't as easy as they make it look on HGTV, but it can be a good investment strategy if you are smart about your renovation costs and sell the house for a profit. Here are just some quick tips on how to identify a successful flip or find ourself a fixer-upper that's worth your time and effort. The main goal is identifying a home that looks worse than it really is underneath the shag carpet and peeling wallpaper.
Cosmetic Issues – Not Structural. The ideal house to flip is one that looks worse than it actually is. Most buyers shy away from homes that will take time and effort to remodel, but that's exactly what you want if you're looking to flip it. While some sellers will try to sell their fixer-upper "as-is", the best course of action is to always get an inspection done on the home before you purchase. Even if it's not necessary, getting the home inspected by a professional before you jump in is the smartest move you can make.
If the issues are cosmetic only, then you've found a great property. Foundation issues, rotted joists, and other structural issues are pricey and more difficult to fix than simply replacing roof shingles or refinishing floors. Take a look at your budget before you purchase to determine your profit margins. If it's too tight, it may be a sign to pass.
Watch For Other Investors. Certain neighborhoods are more conducive to flipping than others, for example, those in the process of gentrifying are an appealing opportunity for real estate investors. If you see a particular area of your town or city where new businesses are moving in and where other investors seem to be working on several properties, you should also begin looking at homes in that area.
Older Homes. It's a no brainer that older homes are best for flips. And according to CoreLogic, the median age of a home flipped (39 years) is the oldest its been since they began tracking in 2002. If you can take an out of date home and give it a fresh look, you stand to make a better profit. Even better, lean into the unique vintage style by keeping as many original features and fixtures as possible. Not everything has to be brand new, buyers who will pay a premium often enjoy classic, vintage touches. Your goal is to choose a home that looks outdated, but was cared for.
Click here to search for homes built at least 35 years ago or browse the selections below.
Related Articles: