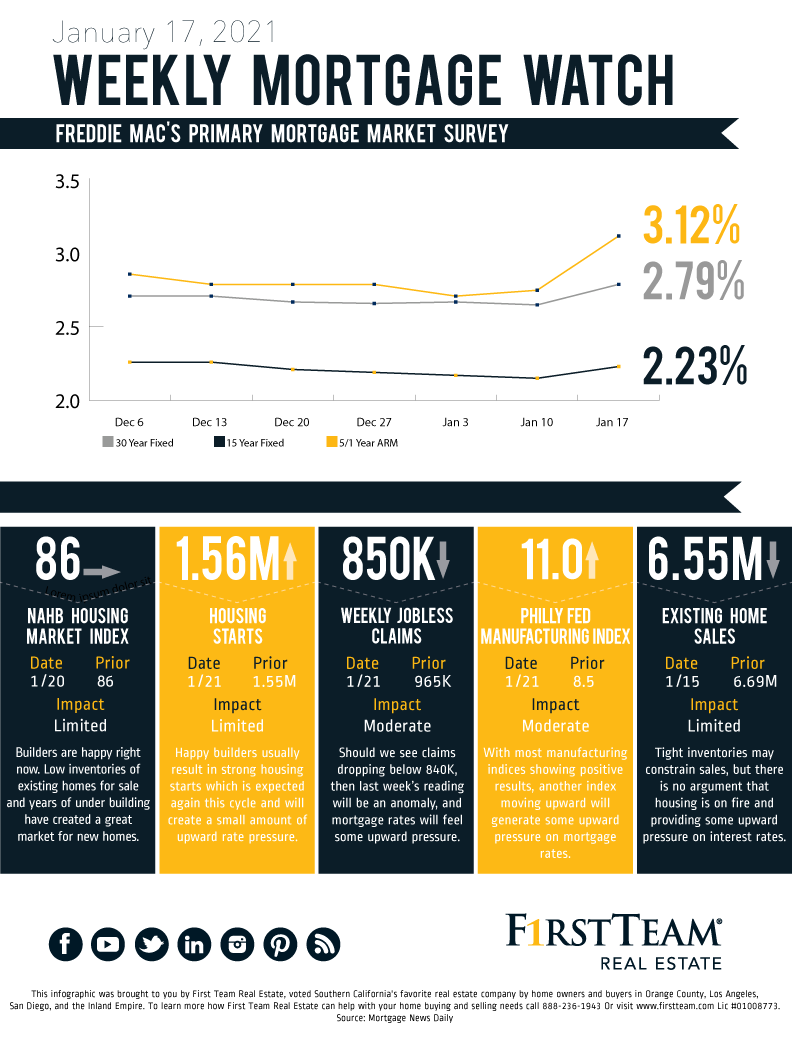 To find out if now is the time to buy, check out this week's mortgage highlights:
Mortgage rates climbed last week on expectations of additional stimulus coming from the incoming administration and the reality that the Treasury will need to issue more debt to cover that new spending.

Before 2008, a surge in new government debt issuance usually resulted in increasing interest rates as that debt needed to compete for a limited supply of investor dollars.

However, with the Federal Reserve purchasing both Treasuries and mortgage-backed securities, the need to compete for investor dollars is significantly muted. Economic news was mixed.

Retail Sales dropped more than expected, and weekly jobless claims climbed upward significantly, but Industrial Production rose more than expected, with all sub-components, including manufacturing, rising strongly.

This week is light on economic data. If weekly jobless claims make another leap upward, we could see mortgage rates moving back downward.

Economic data aside, the current environment favors a pullback in rates unless something completely unexpected happens during the week.

So is now the time to buy for you? Purchasing a home is about finding the perfect time in YOUR life. Click here to start your home search and see what's available in today's real estate market that fits your needs.
Pandemic Lending Standards Extended
Last week, the Federal Housing Finance Agency announced that it would continue to allow for alternative appraisals and employment verifications on government-backed loans until Feb. 28 to prevent settlement delays. The relaxed lending standards were set to expire on Jan. 31.